Features
1. Changed copper bearing and use DU bearing.
2. Changed NBR seal and use PU seal.
3. Changed anti-friction seal and use new POM anti-friction seal.
4. Using new SDA rolling technique for the piston rod and piston.
5. Using SDA rolling technique for the tail barrel (S>100, end cover use snap ring structure).
6. Gasket use SDA anti-collision gasket structure.
7. Barrel appearance is same with SMC new type-CQ2 series,easy to install the sensor and save material.

Internal Structure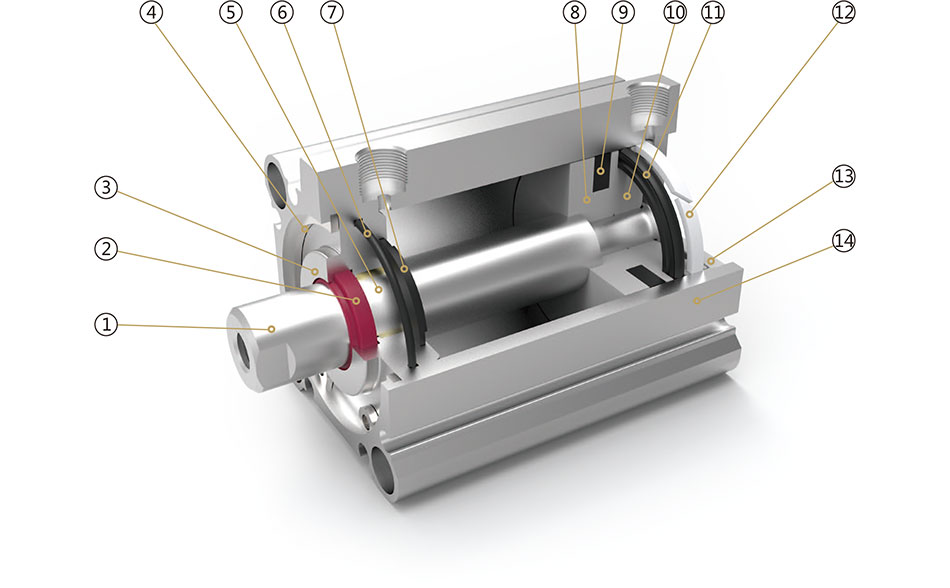 Parts
| | | | |
| --- | --- | --- | --- |
| Number | Name | Number | Name |
| 1 | Piston rod | 8 | Piston |
| 2 | Shaft seal | 9 | Magnet |
| 3 | Front cover | 10 | Magnet base |
| 4 | C clip | 11 | Piston seal |
| 5 | DU bearing | 12 | Anti-friction seal |
| 6 | 0 ring | 13 | Back cover |
| 7 | Anti-collision gasket | 14 | Body |

Ordering Code


Specification
Bore (mm)

12

16
20
25

32

40

50

63

80

100

Operation

Double Acting

Single Acting Spring-out / Single Acting Spring-in

–

Working Medium

Air

Operating Pressure Range

Double Acting

0.1~1.0MPa

Single Acting

0.2~0.9MPa

–

Proof Pressure

1.5MPa

Operating Temperature Range

-20~80℃

Operating Speed

Double Acting

30~500mm/s

30~350mm/s

30~250mm/s

Range

Single Acting

50~500mm/s

–

Port Size

M5×0.8

G1/8

G1/4

G3/8