Features
1. The cylinder is in accordance with the ISO15552.
2. The piston seal adopts two NBR+PA material as Y type one-way sealing structure with compensation function, long service life and low starting pressure.
3. The rod seal uses PU material with the characteristics of high strength, good toughness, wear resistance,oil resistance and aging resistance.
4. The piston rod material is made by 45C Carbon Steel with hard chrome plating on the surface, and the roughness Ra<0.4, with good wear
resistance and rust resistance.

Internal Structure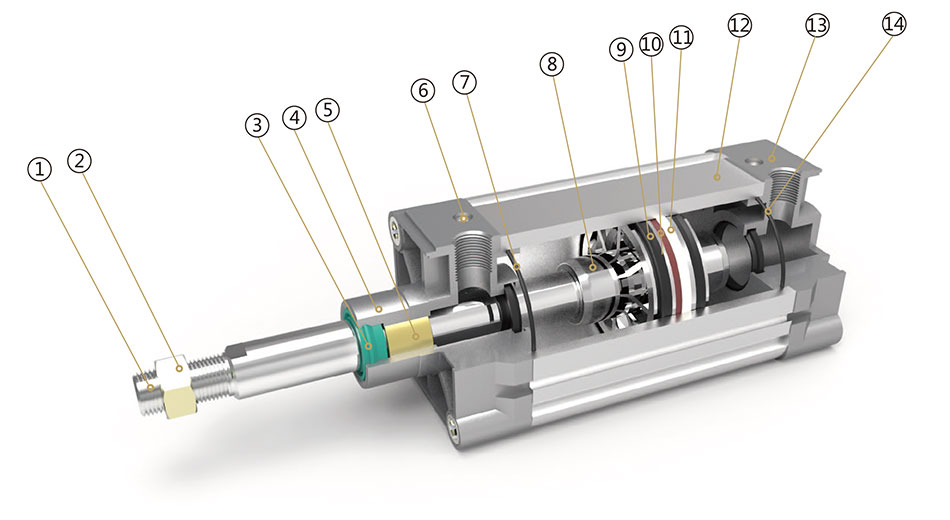 Parts
| | | | |
| --- | --- | --- | --- |
| Number | Name | Number | Name |
| 1 | Piston rod | 8 | Piston |
| 2 | Hexagon nut | 9 | Yring |
| 3 | Shaft seal | 10 | Magnet |
| 4 | Front cover | 11 | Anti-friction ring |
| 5 | Copper tube | 12 | Barrel |
| 6 | Cushion adjust screw | 13 | Back cover |
| 7 | Cushion seal | 14 | 0 ring |

Ordering Code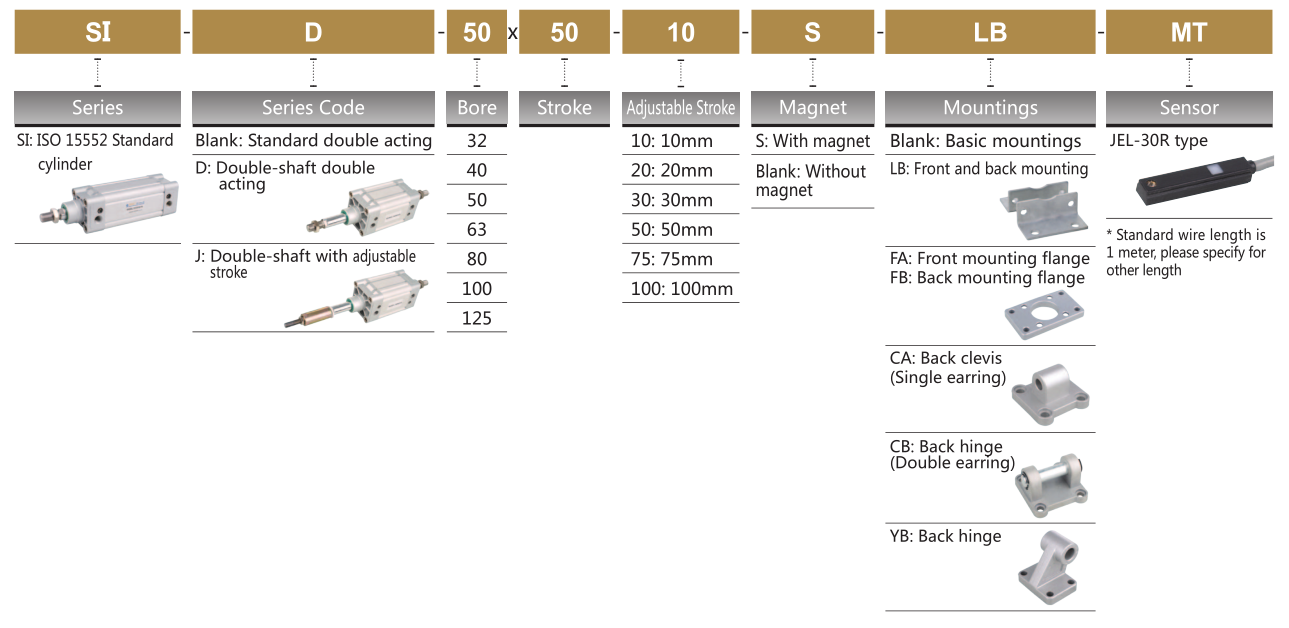 Specification
Bore (mm)

32

40

50

63

80

100

125

Operation

Double Acting

Working Medium

Air

Mountings

Basic FA FB CA CB LB YB

Operating Pressure Range

1~9.0 Kgf/cm²

Proof Pressure

13.5 Kgf/cm²

Operating Temperature Range

-20~80℃

Operating Speed Range

50~800mm/s

Cushion

Adjustable Cushion

Adjustable Cushion Stroke

20 mm

26 mm

Port Size

G1/8″

G1/4″

G3/8″

G1/2″

Stroke
| | | | |
| --- | --- | --- | --- |
| Bore | Standard Stroke | Max. Stroke | Allowable Stroke |
| 32 | 25 50 75 80 100 125 150 160 175 200 250 300 350 400 450 500 | 1000 | 2000 |
| 40 | 25 50 75 80 100 125 150 160 175 200 250 300 350 400 450 500 600 700 800 | 1200 | 2000 |
| 50 | 25 50 75 80 100 125 150 160 175 200 250 300 350 400 450 500 600 700 800 900 1000 | 1200 | 2000 |
| 63 | 25 50 75 80 100 125 150 160 175 200 250 300 350 400 450 500 600 700 800 900 1000 | 1500 | 2000 |
| 80 | 25 50 75 80 100 125 150 160 175 200 250 300 350 400 450 500 600 700 800 900 1000 | 1500 | 2000 |
| 100 | 25 50 75 80 100 125 150 160 175 200 250 300 350 400 450 500 600 700 800 900 1000 | 1500 | 2000 |
| 125 | 25 50 75 80 100 125 150 160 175 200 250 300 350 400 450 500 600 700 800 900 1000 | 1500 | 2000 |